August 14th, 2010, 1:12 am It's Good To Be Back!
Except I didn't really get much done except lots of landscaping and comic reading. May I suggest "Y The Last Man" and "Scott Pilgrim" to you all? I think I may. Also the Scott Pilgrim movie is very good. Oh where are my manners? You all probably wanna bonus panel. Well here you go.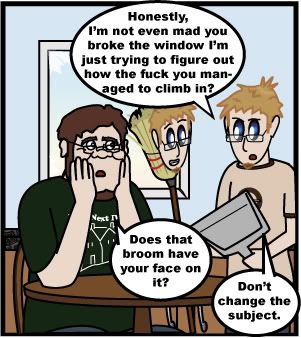 So last comic was not very planned out, this one a little more so. The next one has been finely crafted in the offensive fire that is my brain and then beaten into a ring shape by the keen wit hammer that is kev cole, to make (and I'm not kidding) THE MOST OFFENSIVE COMIC TO RULE THEM ALL. Be excited.
Also I have a question to ask but I feel like if I ask it here I may not get a lot of response so may make a facebook pole so look for that. It regards the end of this comic as you know it... bum bum bum.

Other than that enjoy the rest of summer.

*UPDATE* Brian Townsend actually did get a job, needless to say not landscaping.