June 9th, 2009, 11:54 pm Tuesdays and Fridays
That sound good for updates? I dont really care. I'm gonna try for those two days... by which I mean check wednesdays and saturdays cause I may take awhile...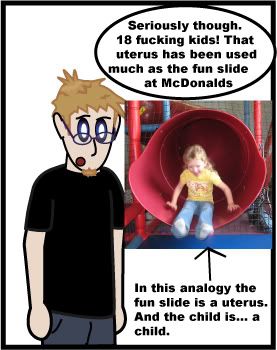 I guess I hate all reality tv what with the fact that I hate people. But TLC has the worst. When they're not parading around these families and their litter of children they have two shows with "little people". And unless we're getting the anorexic chicks from any show on VH1 to fight these little people and get they're ass kicked by them than the little people are being exploited. And that's sick and shouldn't be on my TV. What should be on TV is Chuck... SAVE CHUCK!