June 16th, 2009, 10:46 am Feline Depression Is No Laughing Matter
Except when you're laughing at it.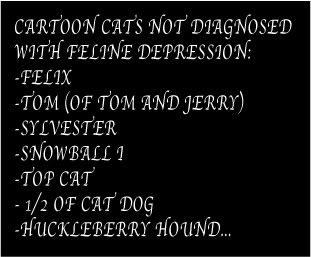 I don't know when Heathcliff the Cat lost the ability t be referenced but I imagine it was around my supposed death in 1996. Point is I don't know if people still know if Heathcliff is. I remember watching it as a kid (that doesn't mean other people did, I was just raised by the TV and all its terrible nuggets are lodged inside my head...)
But hey look I made good on my promise of Friday and Tuesday so far... huh! HUH!