June 18th, 2009, 5:12 pm No Mario Is Bad Mario
Except Mario Sunshine...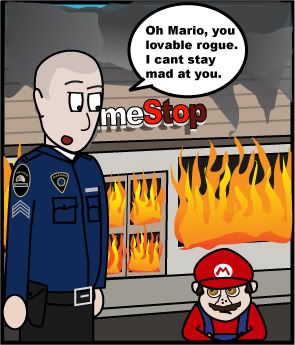 Hey ya'll! It's 2 in the morning and I cant sleep again and just been pondering the mysteries of life over here. Made me think of some comic related stuff. (I think about the comic before bed usually and that is how I came up with the last two comics) So I was just thinking how fun its been to have done this comic thing. I know I dont stick to schedules, story arcs, or what people consider "funny" but I like to think maybe I have a loyal following of 5 and some stragglers who come and go. And thats cool with me

But someday this comic thing will end. (my estimation is at 500 comics I'll end it, just cause it's even and it has 5 in it) And whether I go on to another comic or not I dont know. The thing is I want to do something with more mainstream appeal. My jokes border on inside (they aren't though they're simply the insane rambles of a madman), My site isn't my own it's hosted by smackjeeves (which is cool and all but until I get my own it's just a rinky dink operation), and my comics sometimes are a lot of copy and pasting (not that there is anything wrong with that, hell Disney loved it http://www.collegehumor.com/video:1906578 ).

What it would take to be a real comic? Well I've thought about it. I would need my own site. Problem is my coding is limited and I only remember a little from my interactive webpage class. I'd also need to buy a domain. Thankfully to my knowledge I have the corner marketed on the name "Suburban Freeflow" so no problem there. I'd have to have better jokes which may mean writer. (Kevin will come around someday) And I'd have to draw my comics (even if I dont use a scanner or stylis, which I dont have, I'd have to draw each panel in illustrator and not rely so heavily on copy and paste) So for now I'm sticking to what I'm doing.

Here is what I want to achieve before this comics doomsday. A PERMANENT BACKGROUND I'm thinking something up that may be good. T-SHIRT SALES yeah I know I say it alot but I really wanna. Not just for the chump change but so you can wear your comic love with pride... Well maybe just my pride. Wear them so I'm proud. So I need a good design for a stencil or a better way to do image transfer. A POSTER OR WALLPAPER OF EVERY CHARACTER I'VE MADE Maybe I wont even make you guys pay... Um I guess thats it for now

So yeah this has been a Bryan Shepherd Rambling. If it aint "Bryan" it aint "Rambling"! Almost 3am now I'll try to sleep. Enjoy the comic. It's not great but it's not bad. Probably do another one this weekend. Cause I'm a lazy bum with no job or money. Would like to see Away We Go or the Hangover... But I hear movies cost money. In my day it only cost 10 cents for a talkie...