July 7th, 2009, 6:42 pm What's New?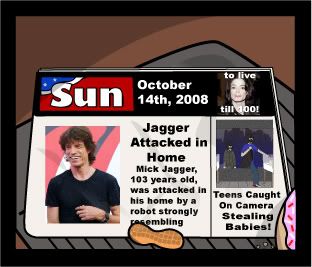 Episode 6 of 10 of Eggmen is up. And the clues are adding up.

So here at Suburban Freeflow, I try to keep doing more things for you all and to give you the most for your comic experience. Well I have a few more things to keep you connected to the comic making experience. First for all you Facebook users, become a fan here:

http://www.facebook.com/home.php#/pages/Suburban-Freeflow/122522209971?ref=ts

Second off if you wanna see what I'm working on when not making comics, look no further than here:
http://suburbanfreeflow.deviantart.com/

I know it's pretty empty now but I'll be doing more work with all this free time I have.

Third, I mentioned something around about making my own site. FOR NOW!!! It seems to be against insurmountable odds, BUT!!! I'm working on something in dreamweaver trying to recall websiting and looking for a place to host it. I'll keep you posted.

And there you go.