August 26th, 2009, 12:20 am School Is Almost Here
Hey Gang!

Woah So after my really awesome thursday update I went to Nantucket. And now I'm back in the country and I find out my brand is facing problems in the land of the rising sun...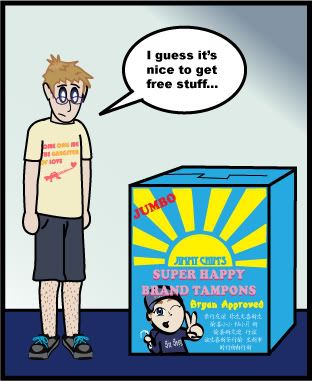 So I've 8 more comics before I get to the big 300. And I'm gonna take a break before I do my 300th comic. 1) to get use to my new school schedule 2) to start writing my new story arc, Walmart Batman 2: Zombie Invasion. It's gonna be really good I promise. I mean I wouldn't promise a story arc would be good (especially after all the bad ones I've done... and am doing) unless I had started it and it wasn't actually good. So be ready for that. And I doubt this will be a long break cause I can never stay away. So anyway school starts next week on tuesday and I'll hopefully get a couple of more updates before then. We'll see what happens.